The Company to Turn to in Cleveland, Ohio, if You Want to Replace a Tub With a Shower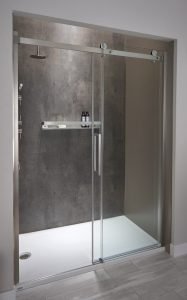 How often do you use your tub? Is it a must-have necessity that you simply can't live without? Or is it little more than a basin to stand in as you shower? If you rarely or never take baths, why not replace your tub with a shower? At Bath Depot Cleveland, we can convert your bathing enclosure to a no- or low-threshold shower in as little as one day. Imagine never having to step over the rim of your tub again. Imagine not having to get down on your hands and knees to scrub away at limescale deposits. Imagine never accidentally knocking over bottles of shampoo or razors balanced on the edge of the tub because you have nowhere else to put them. Okay, now stop imagining and start doing. Reach out to Bath Depot Cleveland today and schedule a no-obligation consultation. One of our designers will be happy to visit your home in Cleveland, Ohio, to inspect your bathroom, review the renovation options we offer, and answer all of your questions.
The BathWraps™ Advantage
When you replace a tub with a shower, you'll be able to tailor your new enclosure to perfectly suit your needs. As an authorized BathWraps dealer, we offer the company's entire line of shower stalls, all of which are made from scratch- and chip-resistant acrylic that's also easy to clean and infused with a non-toxic antibacterial additive. Choose from:
A variety of low- and no-threshold pans
Shower doors, shower rods, or open stalls
Convenience options such as built-in shelving, corner caddies, and soap dishes
Safety enhancements including grab bars, bench seats, and slip-resistant floors
A vast array of hardware selections and wall surround styles
Because BathWraps showers are grout free, they don't provide a place for mold and mildew to grow. They're also backed by a limited lifetime warranty, so you can rest assured that your investment is well protected.
If you're ready to replace your tub with a shower, reach out to Bath Depot Cleveland today to get the ball rolling. And during your initial meeting, be sure to ask about financing options available to qualified Cleveland, OH, customers.