Hassle-Free Bathroom Makeovers for Homeowners in Cleveland, OH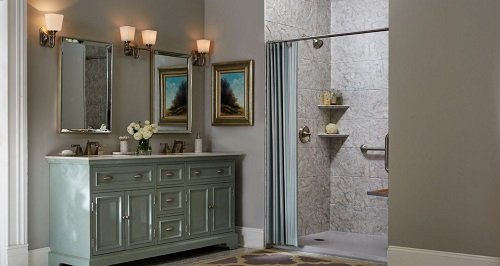 A bathroom makeover is a little like a dream vacation to a place far away from your Cleveland, Ohio, home. The location is exotic, the views stunning, the accommodations luxurious. But the thought of all the planning, packing, and travel required to reach that dream destination may prompt even the most adventurous to consider spending the week in a backyard tent instead.
Don't let concerns about the possible inconvenience and disruption associated with a major renovation stand in the way of a bathroom makeover. At Bath Depot Cleveland, we keep the muss and fuss to a minimum. Our approach to every remodeling project is to streamline the process as much as possible. With thousands of projects under their belts, our skilled installers have the knowledge and experience to complete renovations quickly and efficiently. No challenge is too big to overcome, no detail too small to ignore. And many remodeling projects can be completed in just one day.
Bathroom Renovations Tailored to Your Needs
The first step in your bathroom makeover is to reach out to Bath Depot Cleveland and schedule a complimentary in-home consultation. One of our representatives will sit down with you to review your renovation goals, offer helpful suggestions, and price your project in a single afternoon. We have it down to a science! Our makeover options include:
Removing an old tub and replacing it with a new one
Converting a traditional tub and shower enclosure to a low- or no-threshold stall
Installing customized, grout-free shower surrounds
Updating faucets and showerheads
All of the tubs, showers, and wall surrounds we install are made by BathWraps, one of the largest suppliers of bathing enclosures in the nation. Fabricated from nonporous acrylic, BathWraps products will clean up easily, resist the growth of mold and mildew, and never fade, chip, crack or stain.
Whether you want to spruce up the powder room in your Cleveland, OH, home or give your master bath a major facelift, we can help. Contact Bath Depot Cleveland today to learn more about our bathroom makeover services.