Contemplating a Bath Remodel at Your Cleveland, OH, Home? Ensure Success by Turning to the Best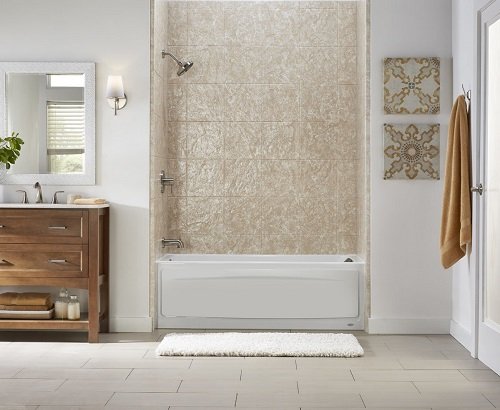 If you're ready to remodel a bath in your Cleveland, Ohio, home, the company to turn to for expert service and top-of-the-line products is Bath Depot Cleveland. Our A+ rating with the Better Business Bureau is a reflection of our commitment to provide The Red Carpet Treatment for all of our customers.
When you partner with us for a bath remodel, you'll be treated with the utmost courtesy and respect. You'll always know when your installation team will arrive and how long your project will take to complete. We'll keep the disorder to a minimum and leave your bathroom in pristine condition, so you'll be able to enjoy your new bathing space without first having to clean up construction grit, shoeprints, or smudge marks.
Quick Installations, But Never at the Expense of Craftsmanship
At Bath Depot Cleveland, we specialize in bathroom remodeling services that will transform your bathing enclosure quickly and dramatically, often in as little as one day. We can, for instance:
Replace an old tub and shower system with a new tub and wall surrounds
Convert a tub into a low- or no-threshold shower
Install a walk-in tub that eliminates the need to step over a barrier to bathe
Update fixtures and faucets
But just because our technicians are speedy, it doesn't mean they take shortcuts. In fact, we pride ourselves on going the extra mile for our customers. Take tub installations, for example. While many contractors will simply fit an acrylic shell over an old tub and call it a day, we'll remove the existing tub, check to make sure the underlying support structures are still in good condition, and install an entirely new tub and wall surrounds.
Contact us today to schedule a no-obligation consultation at your home in Cleveland, OH. With Bath Depot Cleveland handling your bathroom remodel, your bathing enclosure will go from drab to fab in no time!