Premium BathWraps Walk-in Showers for Homeowners in Brunswick, OH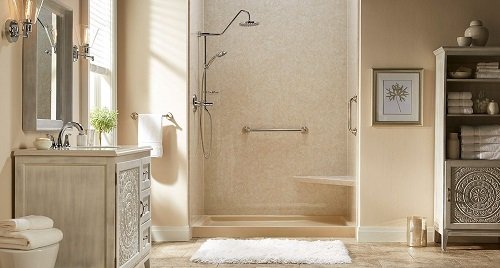 Are you finding it more and more difficult to step over the rim of your tub to take a shower? Are you tired of having to scrub and scrub that lime-stained basin and, even after 20 minutes of effort, it still looks terrible? Or maybe you've had it with picking up shampoo bottles and razors off the floor because you keep kicking them off their precarious perches when you enter or exit the enclosure? If any of these annoyances sound all too familiar, why not replace your traditional tub/shower combo with a sleek, modern, walk-in shower that will eliminate the obstacles that come between you and a thoroughly satisfying bathing experience? At Bath Depot Cleveland, we are the local bath authority serving homeowners in Brunswick, Ohio, and nearby communities. As a proud BathWraps dealer, we offer the company's entire line of gorgeous, maintenance-free enclosures, most of which can be installed in just one day.
Customized for Your Needs
When you turn to Bath Depot Cleveland for a walk-in shower, your project will begin with a no-obligation consultation. One of our representatives will visit your home, inspect your bath, and sit down with you to review all of the options you can choose from to customize your bathing space. These include:
Grout-free acrylic wall surrounds available in a plethora of elegant styles, including those that realistically mimic the look of marble, travertine, granite, and subway tiles
Either low- or no-threshold pans that can be augmented with no-slip surfaces to further reduce the potential for a fall
Shower rods, glass doors, or open configurations
Numerous safety and convenience options such as grab bars, bench seats, and built-in storage
What's more, your walk-in shower will be infused with BathWraps' exclusive Silver Shield™ antimicrobial protectant, a non-toxic additive that uses silver ions to permanently hinder the growth of bacteria.
Why put up with a grungy, outdated tub when you can replace it with a new walk-in shower? Contact Bath Depot Cleveland today and schedule your initial meeting. And be sure to ask about our financing options to make your project as affordable as possible. When it comes to bath remodels, we're the authority you can trust.