First-Rate Shower Replacement Services for Homeowners in Brunswick, OH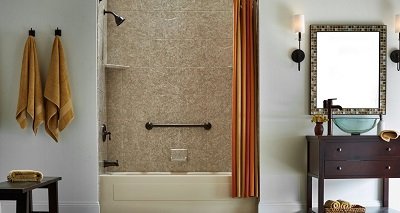 You may never have thought about it in quite these terms, but your bathing enclosure has an expiration date, and just like that forgotten gallon of milk in the back of the refrigerator, it's blatantly obvious when things have spoiled. Maybe it's the stains along the rim of the tub that just won't come out no matter how hard you scrub. Perhaps it's the blackened grout or the cracked tiles. Or maybe it's the outdated style that harkens back to the days of beehive hairdos and rotary phones. Remember those? Whatever the reason, when a bathing space causes you to cringe, it's time to think about an update. At Bath Depot Cleveland, our shower replacement services will put the smile back on your face every time you step into your bathroom. And as the region's exclusive BathWraps distributor, we are the only local company homeowners in Brunswick, Ohio, can turn to for the company's popular line of bathroom remodeling products.
From Meh to Marvelous in Just One Day
Your shower replacement project will begin with a no-obligation consultation. One of our representatives will visit your home to inspect your bath, discuss your renovation goals, and review all of the many options we offer. Those include:
Updating your tub/shower combo – We can replace your old tub with a new tub and then add gorgeous acrylic wall surrounds to complete the enclosure.
Replacing your tub with a walk-in shower – If you seldom or never take baths, why not convert your enclosure to a low- or no-threshold shower that eliminates the need to step over an obstacle to bathe?
Replacing your shower with a walk-in tub – On the other hand, if you love taking baths, a walk-in tub provides a luxurious, spa-like space that can be accessed as easily as stepping from one room to the next.
All of the shower replacement options we offer can be completed quickly and with minimal disruption to your routines, usually in just one day! And BathWraps products are backed by lifetime warranties, so you can rest assured your new bathing space will look great and function flawlessly for as long as you own your home.
To learn more about the shower replacement services we can provide for homeowners in Brunswick, OH, reach out to Bath Depot Cleveland today. We're eager to add you to our ever-growing list of satisfied customers.