Step Into Luxury With a Walk-in Shower From the One-Day Renovation Experts Serving Brook Park, OH, Homeowners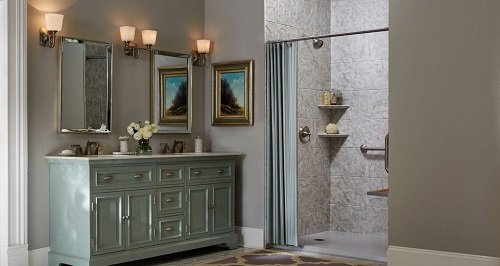 Are you tired of your old bathroom? Is it outdated, cramped, or just plain ugly? If you answered yes to any of these, then consider replacing your old tub and shower with a sleek, modern, walk-in shower. These enclosures can make a dramatic impact on the ambiance of your bathroom, and don't require a costly and disruptive bathroom renovation. Just replacing your shower can create a striking visual impression and open up space for additional storage, his-and-her vanities, a floor-to-ceiling mirror, or anything else that strikes your fancy. What's more, a walk-in shower can often be installed in just one day.
If you're a homeowner in Brook Park, Ohio, Bath Depot Cleveland is your resource for bathroom renovations that offer dramatic results without the hassles of a full teardown and rebuild. And as the area's exclusive BathWraps dealer, we are the only company you can turn to for these popular bathing enclosures.
Options Galore
All of the walk-in-showers we install are customizable, so you'll be able to choose the options you want to suit both your bathing needs and your aesthetic preferences. These include:
Numerous colors and styles for the surrounds, including ones that realistically mimic the look of marble, granite, travertine, and even wood
Glass doors, shower curtains, or an open design
Safety and convenience accessories such as grab bars, built-in shelving, corner caddies, and shower seats
Luxury showerheads and elegant hardware finishes
In addition to its beauty and versatility, your walk-in shower will be completely grout-free, making it exceptionally easy to clean. And, since it boasts either a low threshold shower pan or one flushed with the floor so you can enter and exit the enclosure without encountering a tripping hazard.
Contact Bath Depot Cleveland today to schedule a no-obligation consultation with one of our design experts. We're ready to roll up our sleeves and get to work for Brook Park, OH, homeowners like you who want to take their bathrooms to the next level.