At Bath Depot Cleveland, we're the only team to call for tub-to-shower conversions in Brook Park, Ohio! We serve the entire metropolitan area with beautiful and easy to use showers, and we can often complete your conversion in as little as one or two days. We can transform your bathroom into a much more convenient, functional place and make your bathing truly enjoyable.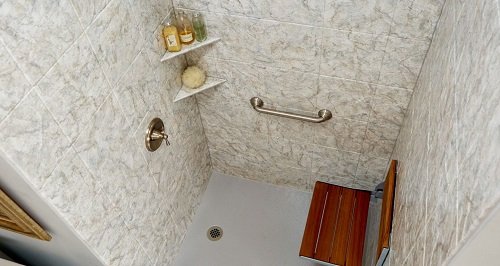 Some things you get so used to that they become all but invisible, even though they're crying out for attention. You know, that cabinet door over the sink with the missing handle. Or the satellite dish on the corner of the roof that hasn't been used since you switched content providers four years ago. Or your tub!
If you're like many people who prefer to shower, it's just something you step over when you enter the enclosure. The only time you ever think about it is when you have to get down on your hands and knees and give it a scrubbing to get rid of the rust stains and lime deposits. But why put up with something that only exists to make your life harder? At Bath Depot Cleveland, one of our specialties is tub-to-shower conversions that transform tired, dysfunctional bathing spaces into luxurious sanctums of steam and serenity. As the region's exclusive BathWraps dealer, we are the only company homeowners in Brook Park, Ohio, can turn to for these durable, beautiful, and easy-to-care-for shower stalls.
Step Into the Future
A tub-to-shower conversion offers more benefits than simply eliminating a cleaning chore. It also improves safety and accessibility. A low-threshold shower removes a potential tripping hazard when entering and exiting the stall, while a no-threshold shower provides roll-in, roll-out access for wheelchair users. You'll be able to customize your new bathing enclosure with your choice of:
Grout-free acrylic wall surrounds available in a vast array of colors, patterns, and textures
Stylish hardware options
Built-in storage such as alcoves, corner caddies, and shelves
Grab bars and bench seats
Glass doors, shower rods, or open thresholds
BathWraps enclosures are also infused with Silver Shield™ anti-microbial protection, a non-toxic additive that uses silver ions to permanently deter the growth of bacteria. What's more, our factory-trained and -certified installers can complete your tub-to-shower conversion in just one day, so you'll be enjoying your new bathing space sooner rather than later.
The Company Homeowners in Brook Park, OH, Can Turn to for One-Day Tub-to-Shower Conversion Services
Let Bath Depot Cleveland be the answer to your search for tub-to-shower conversions in Brook Park. Contact Bath Depot Cleveland and schedule a complimentary consultation, or try our virtual "build a bath" tool to get started on your design! And if you're interested in financing your home improvement, be sure to ask about options for qualified customers.
Want to see more samples of our finished projects and see more of what we can do for your home? Follow our Facebook page today!