Is it Time for a Bathroom Renovation at Your Home in Brook Park, OH?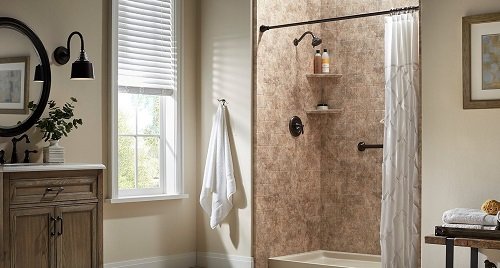 How do you know when it's time for a bathroom renovation at your home in Brook Park, Ohio? Is there an expiration date stamped on the side of your tub? Does an alarm sound, warning you your shower is about to become yesterday's news? That would be nice, but realizing your bathroom is due for a makeover often happens after something breaks, be it a showerhead, wall tiling, or the proverbial camel's back after a final straw of inconvenience or unsightliness.
No matter how you decide it's time to remodel your bathroom, the company to turn to is Bath Depot Cleveland. We are a locally owned business with a proven track record of success. When you partner with us for a bathroom renovation, the first step is to schedule a complimentary consultation with one of our designers, who will meet with you to discuss your renovation priorities, review the many remodeling services we offer, and tailor a plan that achieves all of your goals.
Big Improvements Without the Big Hassles
One of the major benefits of partnering with Bath Depot Cleveland is that many of our projects can be completed in just one day. Some of our specialties include:
Converting a tub into a low- or no-threshold shower, thus eliminating the need to step over an obstacle to bathe
Installing a walk-in tub that combines the therapeutic benefits of a deep soaker with the convenience of an easy-access bathing enclosure
Replacing an old tub with a new acrylic tub and wall surrounds that will never crack, rot, warp, or stain for as long as you own your home
What's more, all of the products we provide for your bathroom renovation are made by BathWraps and come backed by some of the best warranties in the industry, so you'll rest easy knowing your home improvement investment is well protected.
If you're overdue for a bathroom renovation, contact Bath Depot Cleveland today to schedule a no-obligation consultation at your home in Brook Park, OH. And during your meeting, be sure to ask about financing options available for qualified customers. Let's start the clock on your home improvement project.