Luxury Walk-In Showers for Homes in and Around Berea, OH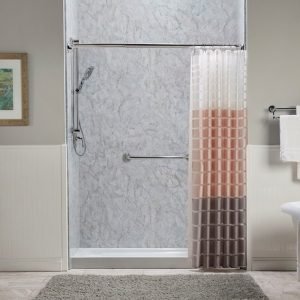 Are you tired of nearly slipping and falling in your high-threshold shower every time you go to take a bath? At Bath Depot Cleveland, we install walk-in showers for homeowners in the Berea, Ohio, area who want to take a relaxing shower without fear of injury.
Our walk-in showers are sleek and streamlined with low thresholds, which make them a fantastic option for those who have limited mobility, plan on aging in place, or simply want a more accessible bathing solution. Bath Depot Cleveland has an A+ rating with the Better Business Bureau, and our talented team is ready to help you with your shower remodeling project.
Why Choose a Walk-In Shower for your Renovation?
Perhaps the greatest advantage of a walk-in shower is ease of access thanks to its low threshold, but that isn't the only perk these types of showers have to offer. They are also:
Easy to clean – Walk-in showers are much easier to clean than tubs and high-threshold tub-and-shower combinations because they don't have as many nooks and crannies. A walk-in shower can be easily rinsed off, making it a low-maintenance option. Also, you won't have to clean shower curtains or liners because they aren't needed.
Spacious – The size and shape of your walk-in shower is fully customizable and made to perfectly suit your bathroom space. The open, airy layout of this shower design also helps to make your bathroom appear larger than it is.
Luxurious – A walk-in shower adds a lavish touch to your home. This type of shower has a minimalistic look and comes in a variety of color, design, and style options.
Walk-in showers installed by Bath Depot Cleveland can also be equipped with a host of accessories, including shelves, caddies, grab bars, and more.
Partner with Bath Depot Cleveland
Are you ready to take the next step in your shower remodeling project? If so, Bath Depot Cleveland is the bathroom remodeler you're looking for. Contact us today to learn more about our walk-in showers for Berea, OH, homes.