A Dazzling Array of Premium BathWraps Showers for Homeowners in Berea, OH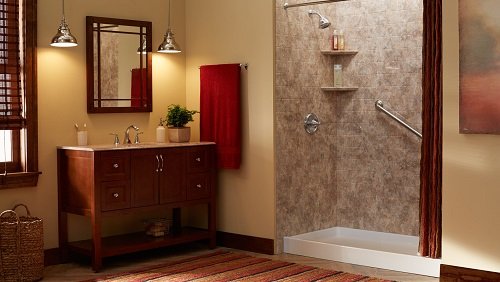 Bath Depot Cleveland is the company to turn to in Berea, Ohio, for a stunning selection of gorgeous, easy-to-maintain showers. Whether you want to replace your current tub and shower or convert the space into a low- or no-threshold enclosure, our technicians can complete the job quickly— usually in a single day—thus minimizing any disruption to your home or daily routines. Since opening our doors, we've transformed thousands of bathrooms, not only improving their aesthetics, but also their safety, convenience, and accessibility.
Step Into a Bathing Space Tailored to Your Every Need
When you partner with Bath Depot Cleveland for the installation of a shower, you can expect The Red Carpet Treatment. Your project will begin with a no-obligation consultation. One of our designers will visit your home, inspect your current bathing enclosure, and discuss your renovation goals. We offer an exceptional array of products from BathWraps, one of the most respected manufacturers in the nation. With so many options to choose from, you'll be able to tailor your new bathing space to perfectly suit your needs, tastes, and budget. A few of the possibilities available for your shower installation include:
A range of attractive, easy-to-clean wall surrounds that can mimic the look of ceramic tile, marble, granite, slate, travertine, and even wood
Low- and no-threshold bases that eliminate the need to step over an obstacle to bathe
Luxury showerheads, shower wands, and body sprayers
Grab bars, bench seats, and slip-resistant floors to increase confidence as you navigate around the stall
Glass doors, shower curtains, or open thresholds
Accessories such as built-in soap dishes, corner caddies, floating shelves, and flip-down shower seats
What's more, your new shower will resist the growth of mold, mildew, and bacteria. And it will be backed by industry-leading warranties, so you'll have the confidence of knowing your investment will provide decades of worry-free performance.
When it comes to shower replacement services in Berea, OH, don't get soaked by a contractor more concerned with its bottom line than your best interests. Contact Bath Depot Cleveland today and take the first step toward a bathroom remodel you'll enjoy for a lifetime.