Turn to the Pros for Expert Shower Remodel Services in Bay Village, OH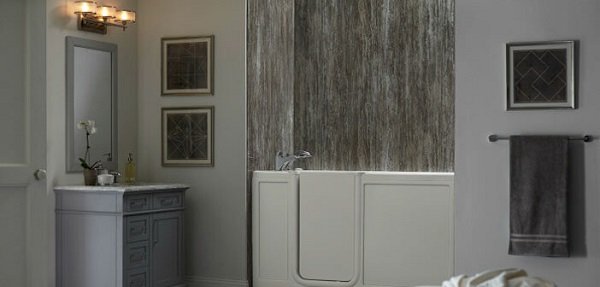 At Bath Depot Cleveland, we've never done the same shower remodel twice. Every project is a custom renovation specifically tailored to the customer's needs, preferences, and budget. If you're a homeowner in Bay Village, Ohio, whose bathing space could use an overhaul, we're ready to roll up our sleeve and get to work for you. As the region's bath authority, we have the experience and expertise to not only meet all of your renovation expectations, but also exceed them. We are the exclusive BathWraps dealer in the region and offer the company's entire collection of bathing enclosures. From traditional tub-and-shower combos to low- and no-threshold stalls and walk-in tubs, you'll have the options you need to create the bathing space of your dreams.
Custom Bathroom Renovations You'll Love From Day One
Every shower remodel starts with a no-obligation consultation. During this initial meeting, you'll be able to sit down with one of our representatives and discuss your bath renovation goals, budget, and aesthetic preferences. Every BathWraps enclosure is custom made, so you can rest assured it will fit your bathroom perfectly. Once you decide on the configuration, you'll move on to choosing a wall pattern, hardware style, and optional accessories such as grab bars and built-in storage. No matter what direction you go in, your new bathing enclosure will be:
Durable – BathWraps' walls, tubs, and shower pans are made from a100% acrylic, so you'll never have to worry about them chipping, cracking, peeling, or discoloring for as long as you own your home.
Easy to maintain – Thanks to their grout-free design, you won't have to spend a single minute scrubbing away at mold-blackened caulking. And forget about rust stains and lime deposits. Your new enclosure will wipe clean with just a damp cloth and mild soap.
Hygienic – BathWraps products are infused with Silver Shield, a non-toxic additive that uses silver ions to permanently hinder the growth of bacteria. Furthermore, since the wall surrounds are a single piece, they don't provide anchorages where mold and mildew can proliferate.
To get the ball rolling on a shower remodel project at your home in Bay Village, OH, reach out to Bath Depot Cleveland today. We're ready to help you take your bathroom to the next level.