The Bathroom Remodeling Contractor of Choice for Bay Village, Ohio, Homeowners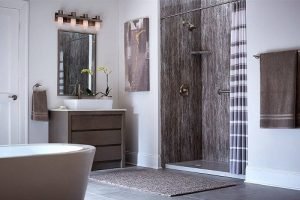 Are you looking for a bathroom remodeling contractor you can rely on for first-rate products, exceptional customer service, and expert installation services? Bath Depot Cleveland is the company homeowners in Bay Village, Ohio, can turn to for bathroom upgrades that transform drab, outdated bathing spaces into dazzling showstoppers in only one or two days. That's because we're an authorized BathWraps™ dealer and can install any of the manufacturer's custom tubs, surrounds, and showers with maximum efficiency and minimal disruption to your home. In fact, as the exclusive BathWraps dealer in northeast Ohio, we are the only bathroom remodeling contractor that area homeowners can turn to for these popular bathroom upgrades.
Beauty Is Only the Beginning
BathWraps surrounds are available in a wide selection of patterns, colors, and styles, all of which are made from non-porous acrylic, a synthetic polymer that can realistically mimic the look of more expensive materials such as marble, granite, and travertine. Of course, while cosmetic improvements are important, a remodel needs to be more than just eye candy. It should also improve every aspect of the bathing experience, and our renovations do just that. Some of the many benefits a BathWraps bathing enclosure provides include:
Expanded storage – Built-in shelving, soap dishes, and corner caddies mean you'll always have a place for all your bathing and grooming products.
Hygienic surfaces – BathWraps surrounds and tubs are infused with SilverShield®, a non-toxic antimicrobial agent that permanently prevents the growth of bacteria.
A safer environment – You'll be able to add grab bars, slip-resistant floors, bench seats, and more to minimize the chance of a fall.
Improved accessibility – If you want to eliminate the need to step over an obstacle to bathe, we can convert your traditional tub/shower combo into a low- or no-threshold shower or walk-in tub.
With options like these, it's no wonder Bath Depot Cleveland has become the bathroom remodeling contractor of choice for so many homeowners in Bay Village, OH. Reach out to us today and schedule a no-obligation consultation to learn more about the BathWraps showers and tubs we can install for you. And be sure to ask about convenient financing options available to qualified customers.