The Company Homeowners in Avon, OH, Can Turn to for BathWraps Walk-in Showers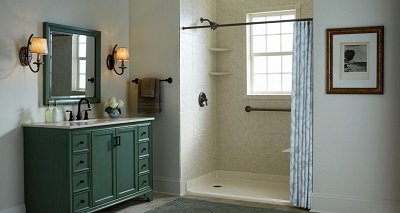 Do you step into your shower, or do you climb into it? If you have a tub, it can feel more like an exercise in balance and precise footing than a simple stride, especially if you have reduced mobility. But for homeowners in Avon, Ohio, there is a solution. At Bath Depot Cleveland, we can replace your tub/shower combo with a sleek, modern walk-in shower that will allow you to enter and exit the enclosure as easily as stepping from one room to the next. We offer and install custom BathWraps shower pans and wall surrounds that will create the perfect space for your bathing needs. Whether you want a low-threshold shower with glass doors, a no-threshold model that can accommodate a wheelchair, or a luxury enclosure with plenty of built-in storage space, you'll be able to tailor your walk-in shower with features that will improve safety, convenience, and accessibility.
Benefits You'll Appreciate From Day One
Bath Depot Cleveland has become the go-to contractor for walk-in showers by consistently providing our customers with exceptional products coupled with expert installation services. In addition to being fully customizable, BathWraps walk-in showers are:
Durable – Made from 100% acrylic, your shower walls and floor will never chip, crack, peel, or blister for as long as you own your home.
Easy to maintain – Since the enclosures are grout-free and stain-resistant you'll never have to scrub them. Just a quick wipe down with a damp cloth and mild cleanser is all that's needed to keep them looking like new.
Beautiful – You'll be able to choose from a wide variety of wall colors and textures, from simulated subway tiles to marble, travertine, and even wood!
What's more, BathWraps products are infused with Silver Shield™, a non-toxic additive that permanently hinders the growth of bacteria. That will make your shower a healthier, more hygienic place to bathe.
To get started on adding a walk-in shower to your home in Avon, OH, reach out to Bath Depot Cleveland today. And be sure to ask about financing options to make your remodel as affordable as possible.