Is a Barrier-Free Shower the Right Choice for Your Home in Avon Lake, OH?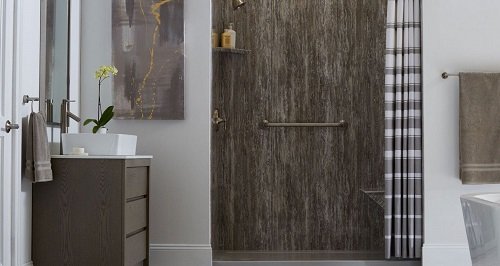 You may think transitioning from a traditional tub and shower enclosure to a barrier-free shower would take some getting used to. And you'd be right. It might take a day or two to fully appreciate the ease with which you can enter and exit the stall. It could take even more time before you realize how long it's been since you had to get down on your hands and knees to scrub away stains, streaks, and lime deposits. And what about aesthetics? How long before you get used to having a bathroom centerpiece that's modern, elegant, and a joy to step into? That giddy feeling of appreciation could linger for weeks, maybe even months. So yes, converting an old tub into a barrier-free shower probably will take some getting used to, and at Bath Depot Cleveland, we think that's pretty great. If you're a homeowner in Avon Lake, Ohio, and you're ready to upgrade your bathroom, we're the bath authority to turn to. We proudly offer BathWraps bathing solutions, which include custom-made barrier-free shower enclosures that can be installed in as little as one day.
An Exceptional Product Customized for Your Needs
Bath Depot Cleveland has become the region's premier bathroom renovation contractor by offering our customers what we like to call the "Red Carpet Treatment", an elevated level of products and services that puts homeowners in the driver's seat. When you reach out to us, your project will start with a complimentary consultation. Our representative will discuss your renovation goals and budget, take measurements of your bathing enclosure, and review all of the many options available for your new barrier-free shower. BathWraps' enclosures feature:
Grout-free acrylic wall surrounds that will never chip, stain, peel, or blister for as long as you own your home
Silver Shield™ anti-microbial protection
Customization options such as grab bars and built-in storage
Low- or no-threshold shower pans in several elegant shapes
To get started on your bathroom renovation, reach out to the local bath authority with an established track record of success: Bath Depot Cleveland. We think once you learn more about the benefits of a barrier-free shower, you'll agree it's a great choice for your home in Avon Lake, OH.